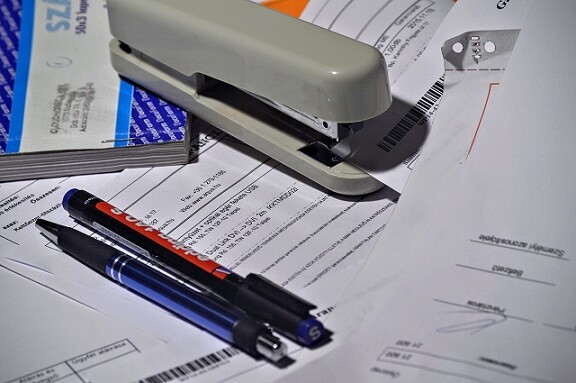 When you're running your small business it can be difficult to stay on top of everything. In the middle of incessant daily workload, one aspect that may get overlooked is that an invoice may not get paid on time.
Whether you're a doctor, a lawyer, or a dentist, the chances of a client's invoice (or several invoices) going awry the inevitable. If you want to decrease the number of unpaid client invoices, your best bet is to stay on top of your practices and look for loopholes in your payment process.
So, here are 10 signs your invoice may not get paid on time.
1. Your Client's Contact Information is Wrong
The most common way that a client invoice will not be paid on time is if their contact information is wrong. This is usually done in error, but if the client's email, phone number, and address all are wrong, then it's safe to assume this was done intentionally. These are the people who never planned on paying for your services in the first place.
The best way to catch these scammers is to test their contact information before delivering your service. If they don't reply or answer to phone calls, emails, or other forms of communication, then you may want to consider handing them an invoice ahead of time or request a prepayment.
2. Your Client Pays with a Check
In today's tech-savvy world, it seems safe to assume that your clients will want to pay by credit card, cash, or a mobile payment service like Venmo or Paypal. However, there are those select few who still hold fast to their written checks and try to use them as a payment method.
One of the reasons that payment in checks have fallen by the wayside is because they take longer to process, they can bounce, and they are ultimately less convenient. If your client tries to pay with a check, make sure to routinely follow up with the payment processor else your invoice may not get paid on time.
3. They Aren't Organized
A client who is disorganized is instantly going to cause you problems. While being scatter-brained isn't a deal-breaker, it should serve as a red flag about how the payment is going to be. These clients may be picky about what they want or they may change their mind multiple times during your agreement with them.
Either way, this sort of mentality should be a clear indicator that this client may have trouble remembering to pay their invoice. Either that, or they may ask for revisions for the delivered work or clarification before relenting to payment.
4. You Aren't Organized
Understandably, running a small business requires you to lean on other people for support. But even if you have someone in charge of your invoice processing, it is still up to you to make sure that your invoices get paid on time.
Being unorganized is not a luxury that entrepreneurs can have. If you haven't laid out terms for your services or you procrastinate on sending invoices, you will create a snowball effect that will ultimately collapse your enterprise. Not only should your finance department be organized with payment spreadsheets and reminders, but your employees should be dutifully aware of the process to get invoices paid on time.
5. You Don't Have Multiple Payment Options
Payment options are a lucrative strategy to have in place simply because it serves as an incentive to get invoices paid on time. If you only allow for credit cards or checks, then you are doing you and your clients a disservice. Multiple payment options make it effective and easy for clients to pay you (on-time).
Payment channels such as PayPal offer safe and secure deposits. Most people these days are familiar with these services, so following up with a variety of payment options will motivate your client to pay on time.
READ MORE: Customer Relationship Management for Small Business

6. Your Client Questions The Invoice
Another obstacle that results in late payments is if your client questions your invoice. It could be that they are just confused about the formatting (which we'll get to next) or there are additional fees that you didn't disclose upon your initial agreement.
This is why it is vital to have a clear outline of your service or product and that your invoice directly reflects what your client received. Having a questionable invoice sets a precedent for your clients not to trust your business – and that can lead to a downfall in your reputation.
7. You Don't Have Correct Invoice Formatting
Following up with that, it's always important to have a cohesive and clear format to your invoices. Make sure to brand your invoice with company logos, contact information, and an address. Your invoice should also always be itemized, even if there is a contract in place that specifies the extent of your services. Having a clear invoice will make it next to impossible for your clients to question your services, therefore leading to invoices getting paid on time.
Here are a few other items you should have in your staple invoice format:
• Invoice number
• Invoice billing date
• Service start date
• Service end date
• Payment terms and options
8. You Don't Follow Up
One misstep that will lead to a pile of unpaid invoices is not having a follow-up schedule system in place. You should always be aware of when your clients' invoice should be paid, that way you can send out payment reminders. One study confirms that only 18% of 90-day invoices will actually get paid. So essentially, if you wait more than 30 days to send follow-up reminders, you are less likely to get paid at all.
On top of sending out invoice reminders, it's important that you are sending the invoice to the correct person. This falls in line with your company's organization. If you are a B2B business, then you may have to send the invoice to another department who takes care of payments. Ask the person you are working with directly who to send the invoice to. Then, do your due diligence to send the invoice and reminders to 2-4 people in that company so that someone knows to pick up the bill.
9. There Isn't a Contract
Some freelance businesses don't work on a contract basis for lack of knowledge on how to set them up. But working without a contract is like accepting a job without knowing the payout.
A contract is necessary to outline your company's restrictions, payment options, fees, and expectations. It may seem like an unnecessary maneuver, but realistically it protects you and it protects your client should any of the conditions change throughout your business together.
10. You Don't Assign a Late Fee
The most striking motivation to have your invoice get paid on time is to set up a late fee. Without implementing a late fee charge, your clients have nothing to lose by paying you late (or not paying you at all).
If you make it clear in your contract, invoice, and initial meeting that all invoices must be paid in full within 30 days, you will be more than likely to start seeing regular payments. If not, clients may take that as a sign that they are free to pay as much as they can whenever they can.
Contact a Collection agency
If you are finding it hard to get things in order or are stuck with too many accounts receivable, the do not hesitate to hire a collection agency. Do not attempt to hire a collection agency near you, instead hire one which is good, has higher collection rates.