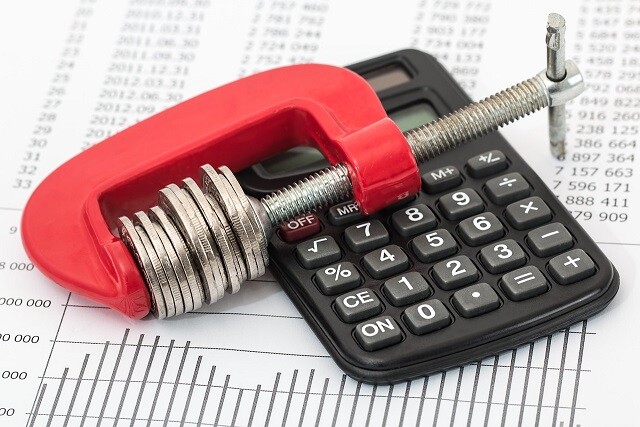 Calculating your dental office overhead can be intimidating, but as soon as you lay out the groundwork, you can look forward to decreasing it. A limited line of overhead means a larger net income from your dental practice, whether you are a solo practitioner or you are working within a team. It's important to have working systems for both your accounting needs as well as your personal goals for your dental office. Without these in place, decreasing your dental office overhead is going to be a bumpy ride.
You should have some form of accounting process in place to keep track of your profits and losses. That way, when it's time to reevaluate your overhead, it will be clear where you need to make some cutbacks. Likewise, reaffirming your business plan can help lead you in the right direction, should you need to recalculate your expenses later on.
Step 1: Look At Your Profit And Loss
The first step in calculating your dental office overhead is to look at your Profit and Loss sheet from the previous year or quarter. The P&L should start with your quarterly gross income, followed by a layout of your expenses. These expenses, naturally, indicate a loss of your profits which in hindsight will determine what causes your greatest overhead.
If you don't have a P&L, well, it's no wonder you're stressing about your overhead costs. A P&L should always be intact for easy reference.
Step 2: Add Up All Your Expenses
Once you have an accurate P&L in hand, you will need to add up all of your expenses.
Your dental office expenses should include:
• Staffing (typically 30% of your overall expenses)
• Property and Mortgage Expenses
• Loans and Credit Cards
• Insurance
• Licensing (business, DEA, etc)
• Office Supplies
• Lab Expenses
• Continuing Education
• Advertising
• PR and Promotions
• Sanitation Expenses ( PPE suits, Sanitizers, etc)
Once that's all added up, you can calculate your dental office overhead by dividing the total amount of your expenses by the gross income.
For example, if your expenses are $70,000 and your gross income is $1,000,000 then 470,000 divided by 1,000,000 equals .7 or a 70% overhead.
How Much Should Dental Office Overhead Be?
The national average is 75%. But considering that most offices are spending 30% of their income on staffing alone, the profit margin tends to get a lot more skewed. Staffing makes up the majority of your expenses, regardless of the size of your staff. This is due to the fact that your practice probably offers health, pension matching, and other benefits on top of salary or hourly compensation. Not to mention the employer taxes that are tacked on top.
Many offices won't want to consider reducing their overhead costs in staffing because that generally means letting someone go or a decrease in pay. Instead, they'll try to cut corners by buying lab supplies in bulk or by canceling magazine subscriptions, which only shaves off a fraction of the overhead in the grand scheme of things. Thankfully, there are other ways to reduce costs without having to downsize your staff.
How To Decrease Dental Office Overhead
Taking your P&L and expense sheet into consideration, there are a few simple, yet effective ways to decrease your dental office overhead.
Increase Lab Bills
You may be thinking, "Isn't this counterproductive?" Actually,- not really.
Think about it: if you aim to increase your patient service by just 10%, that instantly cuts into your overhead. You can do this by up-selling patients during appointments. If they come in for a cavity filling and you end up finding one more, you should inform the patient that you can fix both during the same appointment. That way, you'll be saving money in terms of dental office salaries and equipment. It's more beneficial for you and your patients to offer full dental services in one sitting instead of the atypical one-tooth-at-a-time strategy.
Marketing
Again you may be thinking this is a step in the wrong direction, but you have to spend money to earn money. One of the most common reasons dental offices produce such a stagnant or increase in overhead is due to the fact that they are underproducing. And the most effective way to get patients through the door is by marketing online or with direct mail brochures.
Direct mail can work, but considering the current social climate, you will see better results with consistent online marketing. Entertaining and informative blogs can catapult leads because you are attracting the attention of potential clients without being thought of as "junk mail." You should also consider hiring someone to optimize your website for SEO and look into social media marketing for faster results.
Aim to spend at least 10% of your gross income on marketing. You can't depend on new business solely on word-of-mouth. All of the aforementioned services will lead to new patients. Remember:
No marketing = no new patients = higher overhead
Work With Scripts To Reduce Staffing Overhead
Time and money are spent on staffing. This is especially true in instances where you lose an employee or someone calls in sick. Some offices opt to have a trainer in-house in case of these circumstances, but that just adds to your staff overhead.
Instead, have a Standard Operating Procedure (SOP) handbook written up for all new and current employees to refer to. This makes it so that anyone can fill your administrative dental office positions at any time. You can hire a writer to develop your training manual so that your dental office implements strict systems. Your own ideas should be outlined in these procedures and they must be in writing.
You can also have scripts written as a guideline for your employees. This will make up-selling to patients all the more effective. Scripts can also be used for emails and phone calls. That way, your patients will know what to expect when they call and new patients can have their questions answered by any member of your staff.
With all of these devices laid out, you can decrease your dental office overhead from 30% to 20%. These staffing measures will produce less personnel turnover and simultaneously helps to create an effective and cohesive team for your dental office.
Focusing primarily on getting new clients and ignoring overdue accounts receivable can reduce your cash flow too. Invoices that remain unpaid during the first 90 days have a significantly higher chance to become delinquent.  Hire a collection agency if needed.
And most importantly, it saves you money.