Commercial debt collections or B2B collections involve two business entities, one of which owes money to another. Your debtor is far more likely to pay when a third-party commercial collection agency is involved.
Good news:  The recovery rate in Commercial Collections is fairly good. Most accounts less than one-year old have an average recovery rate of about 80% on viable claims.
Need an A+ Rated Collection Agency with 22 years of experience
Serving Businesses Nationwide – Top-Notch Recovery Rates – Low Cost
A Brief Summary of Commercial Debt Collection Process
If a commercial collection agency does not recover money for you, they will not charge anything. A contingency payment model is applicable.
Tell your collection agency exactly who you think they should reach out to resolve this debt. Apart from the core documentation, do you have any emails in which they have acknowledged the debt?
An experienced commercial debt collector will analyze your case and develop a custom collection strategy. He will call your debtor/defaulter and get him talking. The collector may even send an email, fax, or certified mail to get your debtor's attention. They explain all the consequences of not settling the debt and the potential effect on their business credit.
Most cases are resolved within 40-45 days. However, some may last for a few months. The commercial debt collector may also negotiate a payment plan if required.
A well-planned diplomatic approach protects the business relationship with your debtor. If needed, a well-calculated intensive approach can be used to resolve B2B debts.
If all amicable collection efforts fail, a notice may be sent through an attorney (in-house lawyer or a partner law firm). This puts tremendous pressure on your debtor to settle the debt.
Most cases are settled even before a case is filed in court. Legal action is pursued only after written authorization from you.
If the debtor proposes a settlement offer lower than the original amount due, it is accepted only after your approval ( also known as Settle-in-Full authorization).
The collected amount (minus the collection fees) is remitted into your bank account via ACH transfer or by mailing a check.
Engaging a B2B collection agency avoids the high costs of litigation and costly judgment enforcement. Commercial collection agencies use advanced tools to track significant changes to your debtor's business credit profile. Using their skip tracing tools, debt collectors can find alternate addresses and telephone numbers of business owners. A commercial collection agency may also find a recent summary of your debtor's payment activity with other creditors to help strategize the collection efforts.
Nearly all good commercial collection agencies are registered with the International Association of Commercial Collectors (IACC). Commercial collections are exempted from a 30-day dispute period. The longer you wait, quite likely they may have gone out of business by now. You should provide all the documents regarding the case on the first day.  There is no federal "Statute of Limitations" law regarding commercial debt. However, most commercial debt collection agencies will hesitate to work on a case that is over 3 or 4 years old.  Commercial collectors are experts in large debt collection claims, serving small businesses to Fortune 500 companies.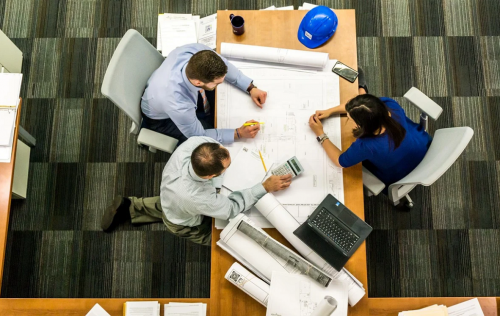 Commercial Collection Agency Fees:
Commercial collection agencies have a low-cost contingency fee model; no recovery means no fee is charged. The collection fee for each case is communicated in advance and primarily depends on three factors: Age of debt, Balance Due and Complexity of the case. The contingency fee is usually between 20% and 40% of the collected amount. Accounts with lower balances or those older than one year have a slightly higher contingency fee. Here is a rough estimate of what a typical commercial collection agency fees are:
 
Contingency fee (Based on Account Age and

Amount Assigned

)
Age < 90 days
25%
20%
15%
10%
90-180 days
30%
25%
20%
15%
180 days – 1 year
35%
30%
25%
20%
Age >1 year
40%
35%
30%
25%
 Amount Assigned
$500-
$5k
$5k-
$20k
$20k-
$100k
     $100K +
Comparing Consumer (B2C)  vs Commercial (B2B) Collections
When businesses think about debt collection, the main question is, "what steps can be taken to recover the amount due fully?" The answer to this question will also let a business know what it cannot do when collecting a debt. The list of prohibited collection tactics for individual consumer debts is considerable, as several laws and regulations seek to protect individual debtors from harassment by bill collectors. When it comes to commercial debt, however, there are much fewer restrictions on debt collection practices. But the lack of regulation does not mean that a wild west-style approach to B2B collections is ideal. A different set of laws apply during commercial collections. Businesses can take several steps to optimize recovery rates. Not just the phone calls and written notices, interestingly enough, emails are often the primary contact medium when collecting B2B debt.
The contact point in Commercial Collections is usually a representative from the accounts payable department. Recovering money can turn into a full-time job for your staff. A collection agency will increase the likelihood of receiving full payments and reduce the burden on your staff. A friendly A+ BBB rating collection agency should ideally handle your debt with no unethical recovery tactics. Commercial collections often involve the vendors of department stores, trucking companies, construction firms, distributors, and manufacturers, who have either not paid within 90 days or seeking a refund for the overpayment.
Legal and regulatory collection laws
Consumer debt collection is largely governed by federal laws, such as the Fair Debt Collection Practices Act (FDCPA), and some state regulations. These laws and regulations require collectors of consumer debt to make various disclosures and refrain from certain activities, such as discussing the debt with third parties and making collection calls after 9 p.m. Collectors also cannot use abusive language or make threats of violence or criminal prosecution. Also, the law prohibits consumer debt collectors from giving false information to anyone, and several other regulations and laws protect assets from recovery.
A commercial debt collection agency is completely exempt from most of these laws because these laws aim to protect consumers, and the concern is that an individual may be more susceptible to misleading information. Technically, a commercial debt collector can contact a business debtor anytime and discuss the debt with third parties without fear of violating laws. It is still, however, important for a B2B collector to avoid misleading debtors or using illegal tactics. While not covered under debt collection practices laws, commercial debts are governed by the commercial contracts between debtor and creditor. Commercial debt collection moves to the legal enforcement stage if not recovered during the collection process. In a court of law, failure to act in good faith can limit the ability of a business to recover the amounts owed.
As of April 15, 2022, CFPB Director Rohit Chopra hinted at the possibility of expanding FDCPA laws to commercial debt.
Legal remedies guide commercial debt collection
For optimal commercial recovery, businesses should focus on their endgame, understanding their legal remedies if they were to sue on the debt. While there are few restrictions and protections for commercial debtors, the ultimate goal is repayment, and harassment might not be the best tactic for collecting from a business customer. When developing a collection strategy, think of what you'll be required to prove in a court of law if you were to sue on the debt. Be accurate; ensure you have documentation for payments received and amounts due.
Taking a commercial debt collection case to court is, of course, expensive. The judgment you may receive is only enforceable if the debtor has assets, and even then, there is a lengthy and costly process involved. There is no law restricting you from threatening legal action, but following a two-pronged approach can make discussions of legal remedies more productive. First, know what you are legally entitled to, and second, understand the costs of securing a legal victory. These two factors ultimately will guide your recovery efforts.
Relationships matter: Negotiate for better recovery
While it is essential to understand your legal remedies completely, it is almost always best to avoid litigation. More productive recovery can result from encouraging discussion about settling the debt amicably and in a way that may even continue a working relationship. If you have a business customer who is past due on obligations to you, try to avoid confrontation and instead work together to solve the problem. It's most likely that the customer wants to pay, but business is not going as well as expected or some other temporary problem is making payment in full difficult. Debt collectors must conduct themselves with the highest degree of professionalism and refrain from actions that may permanently sever any ties.
When a customer gets behind in payments, take the following steps:
Stay in contact. Harassment is unproductive and casts the collector as a "bad guy." Instead, maintain open lines of communication in a positive manner. Keep the door open.
Offer mutually beneficial solutions. Nonpayment happens. Your business should be prepared for an acceptable level of accounts receivable but also can work to minimize this amount by offering options, such as extended repayment plans and even forgiveness of a portion of past due amounts.
Discuss options. Ensure that the customer is aware of the various options you have offered for settling the debt and moving forward. Include these in new client onboarding, and you can encourage open communication if your customers experience financial difficulty.
Think about tomorrow, not today. When negotiating with commercial debtors, work together to ensure payment in the future. Your business's success is tied to your customer's success. Work together today, and help your customers succeed, even out of bad times.
Keep legal remedies in mind. While flexibility and working with a debtor are key to eventual recovery in most cases, it is also important to remember your legal remedies. If a customer cannot pay or their business is being liquidated, you may need to pivot to protect your legal interests quickly.
Blurring the line between personal and
commercial
debt
A commercial collection agency has fewer restrictions; however, many commercial debts are backed by a personal guarantee. When the collections process moves to the enforcement stage, such as levying against bank accounts and other assets, you may be limited by the individual guarantor's rights. For example, an individual's personal protection against wage garnishment may kick in when enforcing a commercial debt. While the FDCPA may not cover this activity, other federal and state collection laws offer protection and can limit the ability to recover.
Ultimately, just as with consumer collection practices, maintaining a positive relationship is key to productive collections.