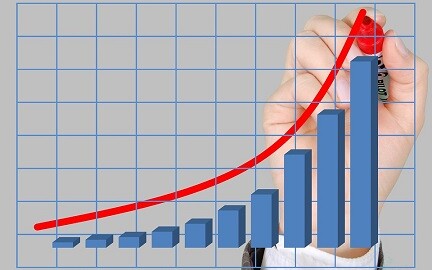 In today's competitive healthcare space, running your own medical practice is both rewarding and challenging. It's a constant balancing act between providing long-lasting, quality patient care, and optimizing business profitability. Also, many important aspects such as dealing with crushing administrative tasks and rising operating costs come into play.
The truth is, many new medical practitioners aren't cognizant of the business side of running a practice, thus they struggle to make a profit. You may be one of them. If so, you're probably not bringing in the profits you should be.
To help you earn more profit, we have included some strategies that'll get you in a more entrepreneurial mindset. These strategies can have a powerful impact on your bottom line if executed well.
1. Build an Online Presence, Get a website.
We live in a digital age where almost everyone uses the internet daily. It would be wise to build your own online presence to make it easy for new to find you on the internet. More and more people are using the internet to research and book their next medical appointment. Which means that your online presence is an integral part of your practice's marketing and visibility strategy. It is therefore important to
Have a  medical or dental website that serves as your digital home that should have clear information on your services offered, practitioners, and access to a patient portal or booking system.
Be knowledgeable about SEO. SEO is a powerful online marketing tool that will benefit you for a long run in your online patient recruitment proclivities, so make good use of it.
Use social media: Facebook, Twitter, Instagram, and LinkedIn. These are all online platforms where a huge chunk of your current patients and potential patients hang out. It is important to keep your patients informed and engaged so post content with important and helpful information, provide helpful tips and news on your clinic. By doing so, you are attracting new clients and building a strong referral network at the same time.
Online reviews: Online reviews like Google, Yelp and BBB reviews are the equivalent of word-of-mouth and are the most trusted way to build a strong online reputation.
2. Transfer Accounts Receivable to a Collection Agency
You know very well, accounts who have been past due for over 60-90 days are hardest to collect. Over 90% of those patients will not pay even after repeated calls from your staff.  Assigning accounts to a Collection Agency is a game-changer. A medical collection agency is usually able to recover over 50% accounts receivable which are assigned to them between 60 and 90 days. You cannot beat the collection rate and cost-effectiveness of a collection agency.
3. Market Your Practice
In this age, relying on old marketing models is a surefire way to lose clients. Today you have to show your community what makes you the best choice for their needs. No longer can you wait for clients to come to you, instead you will have to be proactive and enticing.
You can try a variety of marketing and public relations tactics that require almost no funds, or you can invest money in a more effective marketing campaign that will raise awareness of your practice and increase your patient base such as advertising and participating in free healthcare checkup camps.
4. Automate patient reminders
Whether it's an appointment reminder for an annual check-up or an update for a patient whose test results are ready, good dialogue with your patients helps deliver a quality experience and increase patient loyalty. The good news is that you can automatically send your patients' reminders by setting them up through your medical practice management software.
5. Provide a patient portal
A patient portal is a website that leverages cloud technology to enable instant access to medical information for patients. In addition to that, it also reduces the time spent on administration for practitioners, thus freeing up time in their busy schedule to work on other essential tasks.
Another benefit of the patient portal is that it allows your patients to book and reschedule appointments which significantly reduces patient no-shows. Practitioners can set up automated reminders for any health check-ups that are needed and share real-time information with patients.
6. Monitor Competition
It is important to remember that you are not just a physician, you are also an entrepreneur. This means that all the physicians in your vicinity who are providing the same services as you are your competition. Every patient, they treat is one that could've been yours.
For this reason, it would benefit you to monitor your competition to understand how they gain patients. The easiest way to do this is through the internet. Conduct a Google search to find out what they might be doing that you aren't. If they provide a popular service that you are not providing yet, feel free to copy them. Make sure to provide a high-quality service with exceptional customer service to keep your new clients coming.
7. Increase First-Pass Resolution Rate
Increasing your first-pass resolution rate (FPRR) also known as the "clean claims rate" is a great way to improve your practice profitability more quickly and efficiently. By doing this you will be reimbursed on the first pass. This limits the turnaround time for reimbursement and the money can be more directly reinvested in the practice.
8. Incorporate a seamless billing system
Every company, regardless of size, relies on steady cash flow to operate effectively. Billing is the door that allows the cash flow to enter the business, thus it is a crucial part of your practice success. But the billing process can be tedious, time-consuming and mistake-prone, especially if you are managing different fee schedules.
This automated billing process like AthenaHealth can upload receipts and invoices to the patient portal as soon as a patient has finished their consultation. The automated billing process can also send automated SMS or email reminders for overdue payments.
Present your patients with one straightforward amount with a short breakup below, rather than sending multiple invoices. Your patients will be more comfortable paying the bill. This will also minimize any confusion and hostility.
9. Take Business Courses
Running your own medical practice is a business, and as an entrepreneur, the only way to be successful is to understand the nuts and bolts of running a company. While the internet offers a myriad of physician business tips, attending business courses still provides the most in-depth learning experience. Reduce stress and be cheerful with your patients and staff.
Fortunately, Physician-focused business programs have been blossoming all across the country and some of these are certificate programs available at prestigious universities. The flip side of taking courses is the time and money you'll have to invest. But in the long run, the investment in more formal education should pay for itself.
10. Avoid medical malpractice lawsuits, have insurance coverage
Billions of dollars worth of medical claims are paid out every year. Mistakes happen, and courts judgement are often not too favorable of medical practitioners who are anyway looked upon as the big and rich guys. One lawsuit can wipe of your years worth of earnings and hard work. We have listed some common reasons of dental malpractice lawsuits.  A good malpractice insurance is an absolute necessity for any medical practice.
A few Collection Agencies do a litigious patient scrub before initiating collections. It means they recommend against collecting a few hundred worth of bills against those patients who have a history of suing doctors in the past.
Final thoughts
Running your own medical practice is no easy feat, especially in today's highly competitive business environment. To stay on top of the competition and be profitable, it would behoove you to follow the above-mentioned tips.