Dental practices are always looking for ways to get new patients. Following are proven techniques in today's digital era to acquire new clients online through a Website, Search Engine Marketing (SEO), Paid Advertising, Press Releases, and Social Media Marketing.
A good website is like having the best salesperson, working for you 24×7. Every time a new person visits your dental website, he is a potential customer.
Effective marketing is an investment, not an expense. Initially, you may be reluctant to spend money on your website until you start getting leads through it. Once you launch your website, be patient for at least six months to 1 year before you see meaningful results. Keep your website ticking with new information and articles.
Summary:
Owning a dental website 15-20 years back use to quite impress people, but these days it's an essential commodity for any business, else you clearly appear outdated.
Internet presence includes:
– A personal domain name (ex: "dr-joe.com"),
– A branded email address ( ex: contact@dr-joe.com instead of dr.john.doe@Yahoo.com) and
– An impressive website.
The objective of this article:
Our attempt is to give you
A hands-on practical approach to build a website (using a freelancer), enough to give you some basic technical know-how.
Avoid getting ripped off, or paying too much to website developers.
Sufficient information to talk some technical stuff with your website developer.
I am not getting any commission or financial benefit by recommending you the following resources needed to build your website. My very own experience of building and running a moderate to high traffic website is being shared here.
Step 1. Register a Domain name, Buy hosting etc. : Do it yourself.
It is VERY important to keep the domain and hosting under your own ownership and later share your username and password with your website developer/freelancer. This also allows you to easily switch website developers if you do not like the first one. Don't use the "hosting space" of your website developer; otherwise you may feel being trapped in using his services forever.
My recommendation: ( this is what we use)
1. Domain registrar: Godaddy (About $15 per year)

2. Hosting: Godaddy's Linux Ultimate Shared hosting
( https://www.godaddy.com/hosting/web-hosting
About $17 per month, do not go for cheaper plans.).

3. SSL Certificate ($80 per year): GoDaddy will provide it.
This combination gives me excellent performance. Other than the initial website development/SEO costs, the ongoing cost of running your dental website will be about $300 per year. I have been using GoDaddy for the last 14 years.
Making the purchase:
First, go to https://www.godaddy.com and create a free account with your email/password/phone. Do not buy anything yet.
Second, go to this website https://instantdomainsearch.com/ , find a ".com" domain that you like and is not already taken. Keep the name short. Don't buy anything yet, just shortlist the domain name. Say you want "dr-joe.com"
Third, call Godaddy (+1-(480) 463-8715). Get on-call with a domain salesperson and tell him you have already created an account on their website. Just buy these three items ( Domain name "dr-joe.com", Ultimate Shared Linux Hosting and SSL certificate), decline all other add-ons that they may try to sell you.
Ask Godaddy's Sales Person on the phone to give you the best discount other than the published prices. Opt for monthly billing instead of annual billing, because if your website-making plan goes down due to any reason, you will not lose much money ( less than $200 on Godaddy). You may alternatively make this purchase right after finalizing your website developer.
STEP 2: Create an impressive website by hiring a Website Developer / SEO: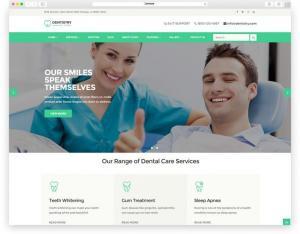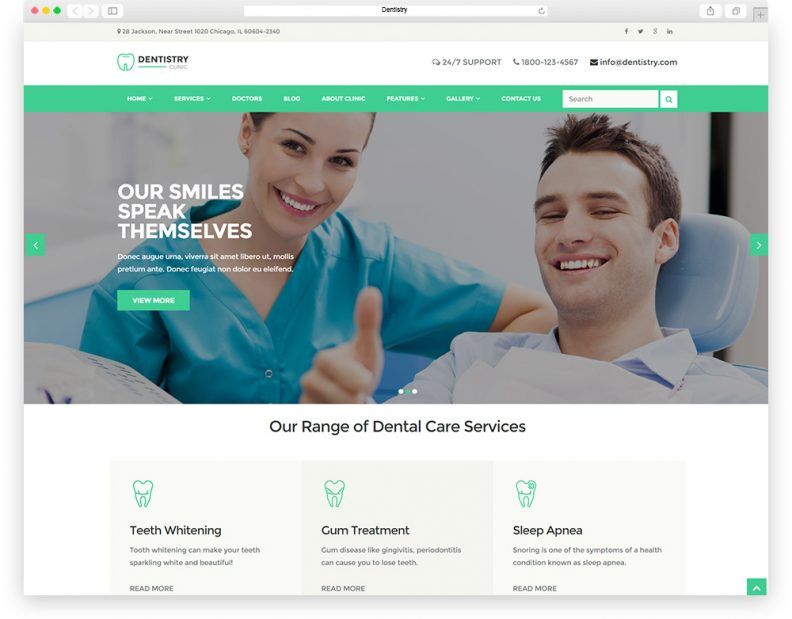 The content of the website should make you stand out. What do you specialize in, why should the patients come to you and not others?
Search on Google for website developers in your area or visit fiverr.com or freelancer.com. Take a few quotations. Also, put your requirement on CraigsList and let people approach you. Ask for a few websites that they have developed recently. Even if you do not find a local developer, but from a nearby city, it is perfectly acceptable. You will need a few initial meetings, but then things can go smoothly over telephonic calls as well.
Here are the sample requirements for your developer:
( remove the portions in blue color,
I've put them here just for clarification)
———————————

A dental office is looking for a local website developer
( WordPress + SEO expert)
1.  Need to build a WordPress based website, well optimized for search engines. (its a free, open-source software)
2.  Recommend me a good Dental WordPress Theme (Usually costs around $50 to $100, one-time cost. Theme is the look and feel of your website. Don't go for free themes. WordPress is like your car engine and Theme is the outer body)
3. I have already purchased a Domain name, SSL and a Linux Hosting plan with Godaddy.
4. How much will it cost to write 10 "SEO optimized" original and good quality dental articles on Invisalign, Dentures, Veneers, Root Canal, Implants, Teeth Whitening and more? (Article writing will cost you around $30-$60 per article.)
5. Suggested wordpress theme should support – Mobile friendly design, HTML 5, Responsive layout, Clean design, simple navigation and On-site SEO built-in ( Keywords, Title, Meta tags etc).
7. Copyright-free photos, Homepage, About us, Contact Us, Disclaimer, Testimonials section, attach the SSL certificate to the website and scheduled automatic backup of the entire site using the free Updraft Plugin.
8. Put my business listing on Google ( 15 minutes to fill the form. Approval from Google takes a few days. )
9. Please mention all the SEO efforts you will take ( link building from good websites, etc). Integrate Google Analytics to monitor traffic. Help me achieve a low Bounce Rate (means visitors stay on your website longer)
10. My total budget is around $1000 – $1500.  ( But be prepared for spending up to $2000)

About WordPress: It is a content management and article publishing software and 100% free. I would not even recommend you anything else other than "WordPress" since it's the best and has thousands of free/cheap plugins and themes. Anything that a small business/dental practice needs can be easily achieved at a low cost and implementations is very quick. WordPress is used by millions of websites, from small personal blogs to Fortune 500 companies. Once your website is up and running, the interface will be as simple as creating and modifying documents in Microsoft Word. You will not make your website, again and again, make it once the right way.
The basic website will be up and running in about 1 week to 3 weeks. Article writing will take about 30-60 days.
STEP 3. Search Engine Optimization (SEO)
To rank on the first page of Google for your city-specific search queries like "Dentists in San Jose" or "Get Root Canal in Austin", will take almost 3 to 9 months of hard work with your website builder. There are no guarantees but just a general trend. Keep asking your SEO marketing guy why he is taking that step and how it will benefit you. Do consider posting some Youtube videos too.
It's every bit worth the effort. Returns are generally beyond imagination. Depending on the population of your city, you may get a few hundred to a few thousand website visitors every month.
People who guarantee your website ranking on the first page of Google in 2 months are modern-day "Snake Oil" salesmen. Do all the right things and then leave it up to Google to rank your website gradually. It can even take  12 to 18 months for ranks to improve. A lot depends on online competition from other dental practices in your area. Do not fall for cheap website builders. You get what you pay for. Ranking well on search engines requires your involvement, good article writers, and review of what they have written. Do revisions if necessary.
Without your personal involvement and supervision, you will just have a website with no benefit. There may be hundreds of dentists in your area who must have outsourced work entirely on their website developers, but they must be generating zero leads online.
Your core website-building effort ends here. Every now and then add some latest content to your website, or update existing articles if needed.
STEP 4. Local Business Listing
Tell your Website Developer to help you create a local business listing on Google, BBB, Health Grades and Yelp.
Search and watch a short video on YouTube about Google My Business (GMB) listing.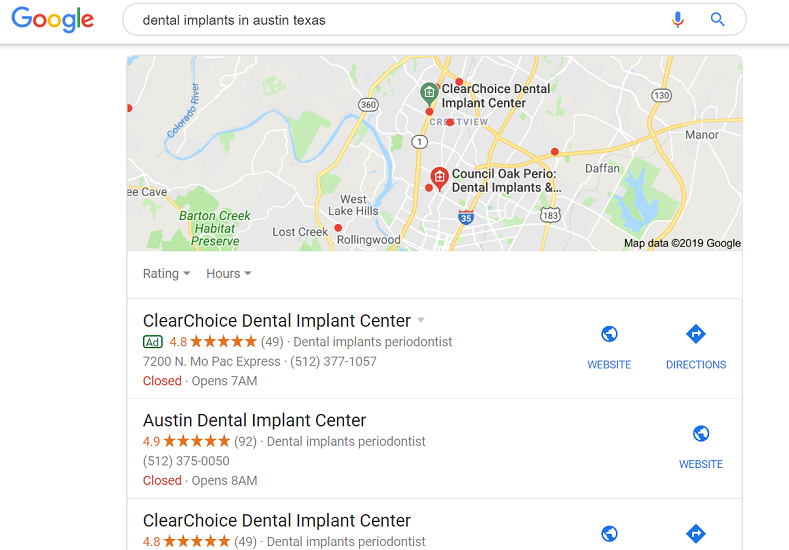 Then request your good customers and friends to give you a 5-star review. When patients are searching for dentists in your local area, your listing will start appearing like the above.
 STEP 5. Paid Advertising / Pay Per Click Advertising
In Google search results, people who pay Google ( through Adwords) stay on top. Then "Local business listings" appear ( mentioned above) and finally the search results. See below..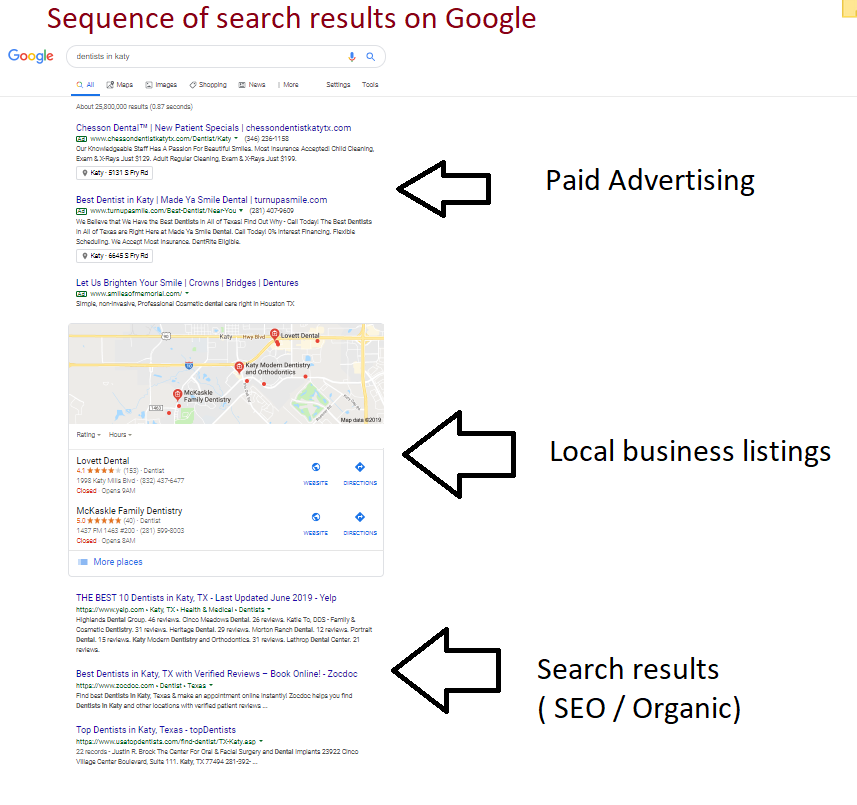 You may fix a budget of $100 or $200 per month, and the cost of each click you want to pay. For example, you might want to pay $5 per click and allocate a budget of $120 per month. It means when people search for a relevant dentistry term, Google will send 24 people to your website that month. Make sure to specify the geographic area as your city ( No point in showing your advertisement in San Francisco or Houston, if you practice only in New York.)
6. Social Media Marketing
Social media is an extremely powerful tool. Having a presence on social websites like Facebook, Linkedin and Twitter helps to reach real people. Posting content on tags relevant to your patients is a great advertisement tool.
7. Online press releases:
You can publish the latest developments in the dentistry industry or recent FDA findings or approvals. Publishing on popular press release websites can be costly ( say about $300 per post on prnewswire.com ). Consider doing this once or twice a year.
Offline initiatives
I have never seen a website rank poorly after one year of its making if a serious effort has been put in. We do not assist personally in making a dental website but hope the information above was helpful.
Too many accounts receivable of your patients? Looking for a debt collection agency with extensive experience in dental collections: Contact us