The challenges that businesses face are numerous, but few are as aggravating as customers that don't pay their bills. This violates the basic quid pro quo that commerce is founded on. You provide a product or service, and in return, your customers agree to pay for it.
When they don't, business owners must decide whether to pursue the debts themselves or pass the job off to a third-party collection agency. Both options have their positives and negatives. This article will focus on the pros and cons of hiring a debt collector instead of doing the difficult work of collecting yourself.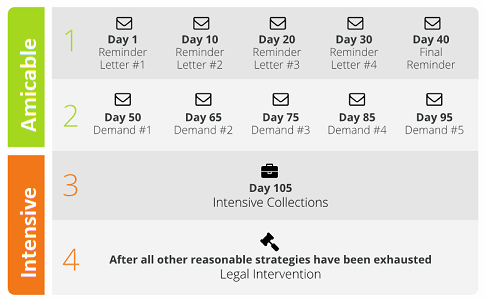 Pros in Favor of Collection Agencies
Convincing delinquent accounts to settle their balances can take quite a lot of time and effort. These are the reasons why businesses should let collection agencies take the wheel.
Collection Agency is the "Bad Guy", you are not
By involving a professional debt collector, you are not directly involved in the collections activity. You can just maintain that it is the company policy to forward accounts for collections, now things are out of your hands. They should contact the agency directly for settling the balance.  
Collection laws
Welcome to the United States, there are complex and countless laws involved in attempting to collect your own money. Collection agencies are well versed with federal and state debt collection laws therefore they minimize the risk of getting sued back by the debtor.
Debtors are far more likely to pay when a Collection Agency is involved
Debt Collectors are experts in collecting debt, after all that is what they do all day long. They have access to several tools and services to effectively and legally recover your money. Debtors understand that giving false excuses or simply relocating to a new address is ineffective with a collection agency. It is nearly impossible to match the cost and recovery rates of a collection agency.
Businesses Have Better Things to Do
You have a business to run. Time spent drafting and sending collection letters, making phone calls, and keeping track of account statuses pulls personnel away from their normal duties. Depending on the volume of potentially bad debt you're carrying, the amount of time your business can lose is significant.
It's certainly worth attempting to collect funds owed before they become considerably past due. But once a customer has demonstrated a reticence to pay, further efforts on your part are likely to be unsuccessful.
Moving these delinquent accounts to a collection agency allows you to focus on finding new customers and on generating new income while the agency attempts to recover funds you likely can't.
Collection Agencies Are Better Equipped for the Job
Collection agencies have a number of tools available to them that you don't. Plus they have the benefit of single-minded focus. They don't have to run your business while trying to collect debts.  Collecting debt is all they do, so they're able to dedicate themselves to the task.
If you sell widgets online, your skills lie in widget sales and online commerce. Debt collection isn't likely something you're trained in or something that you know how to do well. But that is the primary focus for collection agencies, and so they have a significant advantage over you when attempting to recover the delinquent debt.
You just addressed the Collection Problems that every business faces
Most companies do not have dedicated people to handle overdue accounts receivable. Your existing employees are neither effective nor organized to handle the debt collection. Hiring a collection agency will help you to address even those accounts with low balances. Regardless you have high volume of unpaid invoices or just a few accounts, a collection agency will continue to work for you. You will be better advised on accounts with severe delinquencies, litigious customers, or when the debtors are difficult to locate. Hiring a collection agency will leave your employees less frustrated since internal staff hates doing debt collection.
Collection Services Only Cost You Money If They're Successful
Most reputable collection agencies charge using performance-based contracts. They take a percentage of any monies recovered, which means you're not risking anything by seeking their services. If they collect nothing from your delinquent accounts, you pay them nothing.
On the other hand, if they're successful, you'll pay a set percentage of the total funds recovered. But these are funds you likely would not have recovered on your own, and a percentage is better than recovering nothing at all.
Although most collection agencies offer low-cost & fixed fees based Collection Letters service as well which are extremely effective and recommended for accounts less than 120 days.
Other important benefits
Collection agencies can collect debt across all 50 states, in both Spanish and English. They also have a national network of attorneys who can assist if there is a need to take the debtor to the court. They will offer several payment options to the debtor and can even place the account to be paid off in installments. 
Cons Against Collection Agencies
Like any business, collection agencies aren't right for every customer. Here are a few things to keep in mind when considering whether to hire a debt collector.
They Aren't Cheap
Collection agencies charge a fairly high percentage for their services, often between 25% and 50% of the funds recovered, depending on the type of debt. But this is to be expected.
Delinquent debtors are typically transferred to a Collection Agency after 90 days of non-payment and the possibility of recovering anything from these accounts through the efforts of in-house employees is nearly zero. Money collected through collection agencies is cash you may have not got otherwise. 
Even with their expertise, a large amount of debt remains unrecoverable without invoking severe, and expensive legal actions. So collection agencies must support their businesses with the funds they are able to recover. It's important to remember that without the help of a collection agency nearly all delinquent debt remains unrecoverable. Paying 50% on recovered funds is better than the alternative.
Federal laws restrict what a Collection Agency can do 
There are many debt collection laws applicable when Collection Agencies are trying to recover money from a debtor. A simple example is  "30-day" dispute period during which a debtor can tell a collection agency to prove he indeed owes the debt, or stop contacting him. The dispute period does not apply to the original creditor. Many states put original creditor and collection agency in the same bucket, which means the collection laws apply to either one trying to recover money from the debtor.
Slightly Higher Possibility of Sour Customer Relationships
Some customers just get agitated due to the mere fact that the account has been transferred to a collection agency when they themself have failed to fulfill the payment obligation despite your repeated efforts and reminders from your in-house accounting/receivables department. Do you even bother so much anyway to maintain a good relationship with these customers?

If you choose a collection agency that's overly aggressive or one that employs unsavory methods for collecting on your accounts, those customers affected will likely think ill of you by the end of the process.
This is less than ideal because many customer accounts become delinquent due to circumstances out of your customer's control. They often want to pay, but can't. When their financial situations improve they could revert to being good, paying customers. But this is less likely to happen if a bad collection agency ruins the relationship.
Hire a Trustworthy, Well-Reviewed Agency
The negatives associated with collection agencies can be avoided by checking references and reviews for the agencies you're considering to find one that employs industry best-practices, works to maintain healthy customer relationships, and take a fair percentage in exchange for their services.
The unfortunate reality is that attempting to collect delinquent accounts on your own is likely to net you nothing but heartache and wasted time. Trusting these accounts to an esteemed collection agency significantly improves your chances of recovering funds, and something is always better than nothing.
If you need a cost-effective collection agency that utilizes an amicable, diplomatic yet firm approach to recover your money then Contact us.