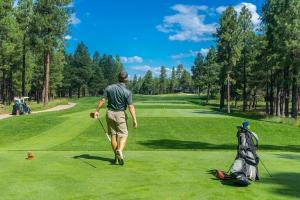 Being an avid golfer, and working in the collection industry for the last 18 years, it wasn't long enough that I started to find so many similarities between the two.
1. Practice and Patience
Like Golf, debt collection is an art that requires sufficient time to learn and improve the game. Then there are days when we have excellent collection results, and others when nothing seems to be working, exactly similar to the day-to-day fluctuations we experience in the game of golf.
Keep your patience, continue to introspect and stay focused. Put up a smile, clear your head and start your next call with a positive attitude.
Do you need a Collection Agency for your Golf Course?

Contact Us
Golf courses have huge operating expenses. Their accounts receivables may include recovery from contractors (pavers, cart repairers, etc), credit card reversals, unpaid membership fees, damages and more. If you have a signed contract/receipt/invoice to support the debt, there is a high chance of recovering your money.
2. Play Smarter, Not Harder:
Apply too much force in the game of golf, and your shots start to go haywire. A successful debt collector needs to have an acute presence of mind. He should know how to handle the call based on the responses they get from the debtor and somehow make him pay. Smart and straightforward tactics work far better than brute force and anger.
Best collection rates in the industry are achieved with good acumen and the presence of mind, not with simply pushing too hard or blindly sticking to a script that your boss has given you.
3. Never use a Driver for shorter shots.
When your ball is 90-120 yards away from the hole, we use Irons not the Driver. Suggesting the right product to the client is very important.
Low-cost collection letters are more suitable for debts that are about 90 to 120 days old. Collection calls are suitable for accounts over that limit and Legal suit as a last resort. Suggesting the most optimum solution to your Client, will keep them satisfied and make them stick with your agency for a long time.
4. Concentration:
Before starting a collections call, take your mind away from those daily "Breaking News", forget about your social media conversations, put the phone aside and everything that can potentially distract you during your conversation with the debtor.  Exactly what my golf trainer says … Stay focused, razor-sharp.
5. Control of Emotions
Debtors deal with crappy calls all day long. It is very important to keep control of your own emotions, most importantly your anger. Just like in the game of golf, once you are agitated, the game is all but over.
6. Short Game is more important:
Every collection call need not be a 10+ minute conversation, probably only in those cases where the outstanding debt is too high. Time is money for debt collectors. It is important to remember that you are not working to hear long stories of your debtors but to collect debt in optimum time.
The idea is to reach the target in a minimum number of shots. Similarly, in Debt Collections, the idea is to recover maximum money with the minimum number of contacts.
7. Buy a good golf set: Not the cheapest one, not the costliest one
You can buy a bargain golf set for as low as $200. But most of us know they are not too good. They will likely spoil your game. There is a reason most people buy branded golf sets like TaylorMade, Callaway, Titleist, Ping etc. These golf sets have the appropriate design, metal and technology to get the best shots. A golfer does not need to break the bank, but a decent branded set will come between $500 to $1000.  This will improve your game and accuracy and last you for many years.
Similarly, never go for a collection agency just because it has the lowest fees. Good collection agencies invest in a lot of quality manpower, technology and services to provide maximum returns. So even if you have to pay 10%-15% extra for a better collection agency, go for it. Higher returns will make that little extra investment/fee look minuscule.
If you are looking for a good collection agency: Contact Us