The cost of healthcare in the United States has been a concern for 50 years. Over the past decade, however, medical debt has bloomed, and its growth has caused a ripple effect. Burdened with high costs, lost wages due to illness, and other ways a medical need can affect finances, more people are filing bankruptcy because of medical debt.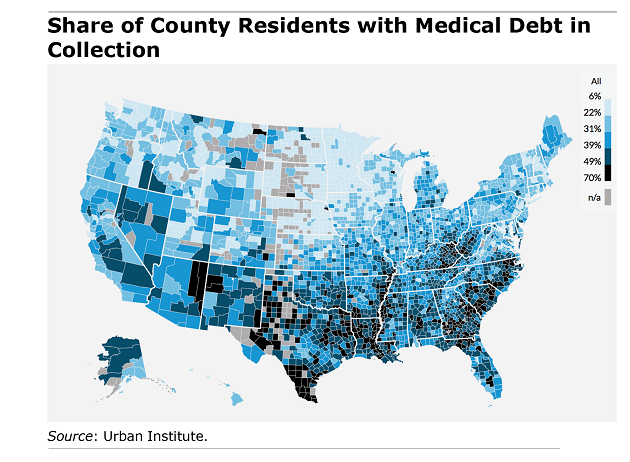 Big Medical Bills – A large and looming problem
An estimated 79 million Americans have medical debt problems. These can range from owing money to a hospital or other care provider, to forgoing vital care because of prohibitive costs. The total past-due health care debt in America is now $81 billion. With such a large number of people affected by the cost of medical care, it is unsurprising that some of this group will be pushed beyond their personal financial brink.
Bankruptcy is an extreme remedy under the law, and few people approach filing bankruptcy without exhausting all other options. In fact, the Bankruptcy Code's means-testing requires debtors in Chapter 7 filings to prove that they could not pay off their debt through stricter budgeting.
From June 2018 to June 2019, about 765,000 individuals filed for bankruptcy protection in the United States. This number is a slight drop from the previous year, which continued a downward trend over the past few years.
However, recent academic research discovered that over 66 % of all bankruptcies are medically-related.
The growing number of medical debt-related bankruptcy filings highlight a large problem that has culminated from increased costs of care and an ongoing political battle over how Americans pay for and receive health care services – a situation that many refer to as a health care crisis.
Unfortunately, the Coronavirus (or COVID-19) pandemic will push more people towards bankruptcy. Hospitalizations, ER stay, Outpatient visit, Ambulance trip, co-pay, tests, X-ray scans and more, can quickly wipe off the savings of a typical American family even with insurance. Moreover, a lot of people have lost jobs, and a large medical bill is the last thing they want to see right now.
It's not only a crisis for the uninsured
One might think that lack of insurance is the primary reason for out of control medical debt. Care is expensive, and many Americans do not have sufficient savings or room in their monthly budgets for surprise expenses. Health care is very likely to be unplanned, especially expensive procedures and hospitalization.
While people may not have financial cushions to absorb the shock of urgent medical care costs, this problem affects those with insurance as well. Insurance deductibles and denied claims for procedures that are not covered are a big part of the problem. Not everyone has access to low deductible insurance, and high deductibles can easily surpass the average American's savings.
Also, even the lowest deductible doesn't alleviate the cost of illnesses that can easily spread beyond one's health care.
Age groups affected
Another reason for concern is the fact that medical debt is negatively impacting the lives of Millenials. A study showed that 11% of people with at least one medical bill in collections are 27-years-old. This is a large percentage for one very specific and limited age group, and it is notable as the age when children are no longer eligible to be on their parent's insurance policies under the Affordable Care Act. This generation is also facing an increased cost of living and student loan debt that can collectively make even small amounts of medical debt unmanageable.
The cost of health care, however, is not only a concern for younger adults. The growing senior population and increased costs for health care are also sending older Americans to bankruptcy. Also, medical needs can affect anyone at any age, but a large number of affected individuals at each end of the age spectrum might provide some clarity about the larger problem. Health care is expensive, insurance doesn't cover everything, but many Americans lack financial stability to weather unexpected expenses.
Solutions: from laws to charity
Anyone even half-listening to national politics knows that solutions to the costs of healthcare are hotly debated, and have been for years. Some of the solutions implemented, however, have not made a notable impact on medical debt and its effect on bankruptcy filing rates. A study by the American Public Journal of Health showed that the Affordable Care Act did not lower the number of medically-related filings. This is because of high deductibles, which can put the price of medical care beyond one's budget. Pushes for and against "Medicare for All" legislation are highly politicized, and it's unclear if the net result of such a plan would save individuals money.
This situation has left many to seek an alternate solution: charity.  Many non-profit hospitals have programs to forgive medical debt for those unable to pay, but there is not enough to go around for all of America's medical debt. Crowdfunding has risen to fill this gap, with over 250,000 medical GoFundMe campaigns last year alone.
Ultimately, the solution may require a combination of various efforts. Bankruptcy is a remedy for individuals who have gotten in over their heads due to a number of circumstances, but the clean slate that results from a successful filing doesn't protect against future medical debts.
Patients will be able to eliminate medical debt in both Chapter 7 or Chapter 13 bankruptcy. However, bankruptcies will stay on your credit record for anywhere between seven to ten years. But not everyone is eligible to file for Chapter 7 bankruptcy. Your medical bills and other debts can't exceed the allowed Chapter 13 debt limits.
Image Source: https://www.nber.org/papers/w22170