There are about 5000 collection agencies in USA … Yes, you read it right. Each agency claiming to be the best, because they need business from you. 
Hiring a collection agency is like selecting a reliable business partner. Here are the main factors that will assist you in shortlisting which collection agency is the best for you.
1. Does the agency have experience in your industry? Statistics or references?
Collection laws and techniques to recover money from accounts receivable differ from industry to industry. For example, the approach used to collect money from the customers of a car dealer is very different when money is collected from the patients of a dentist. A doctor may want to use diplomatic verbiage to collect debt, while a car dealership may want to go for intensive collections.  HIPAA privacy laws apply only when the debt is from healthcare industry. Your collection agency should have experience in collecting debt which is relevant to you.
2. Collection agency's reputation on BBB:
Ask for references from your lawyer or your chamber of commerce. You may also check reviews on Better Business Bureau (BBB) website, but collection agencies never have good reviews due to the nature of their work. Check if they are registered on the ACA website. Most reputable commercial agencies are members of the International Association of Commercial Collectors. 
Ratings are important, but it is also important to understand that agencies which collect from individuals generally have a lower rating than those who strictly do commercial collections. So, make sure you are not comparing apples to oranges.
3. Do you need services for Individual or Commercial collections (or both?)
Individual (or Consumer) collections refers to collecting money from individual debtors (a person). Business collections (or Commercial collections) is Business-to-Business collection.
What kind of debtors do you have – Consumer or Commercial or Both? Therefore check if your collection agency has experience in dealing with the kind of debtors you have.
4. Adherence to rules and regulations: Too many lawsuits ?
All collection agencies must follow rules specified by the Federal and State governments, which includes not indulging in threats, harassment or falsifying information. Contrary to popular perception, there are plenty of good debt collectors out there. While the occasional bad actor gets the headlines, less than 0.01 percent of all collection contacts end in complaints to state or federal regulators or the Better Business Bureau, according to ACA International, a Minneapolis, Minnesota-based industry trade group.
Such collectors generally have a short career in the industry. Following laws is essential for the survival of a collection agency. Illegal actions can result in heavy fines on the collection agency and even the client (the original creditor). After all the collection agency is collecting on creditors behalf. Regardless of stress and problems in debt collection activity, a debt collector should remain calm and composed.
A collection agency which follows guidelines like FDCPA and HIPAA are less likely to get sued. Members of the Commercial Collection Agency Association are the only collection agencies certified by the Commercial Law League of America, and they have to pass some stringent requirements to obtain that certification.
Is your collection agency willing to provide detailed information on their collections process? For instance, exactly how will your customers be contacted, how often, and in what manner?
5. Licensed to collect in all 50 states ? May be
If your debtors are local, then hiring a local collection agency is suffice. But if your volume is large and your debtors are present in many states or may move to other states then it is recommended to select a nationwide collection agency which is bonded and licensed to collect in all 50 states.
6. Insured against lawsuits or not ?
Collection Agencies should ideally carry Professional Liability coverage for their errors and omissions. Defense for suits alleging failure to comply with the Consumer Protection Acts are the most common suits Collection Agencies face. FDCPA lawsuits are rising every year. Even frivolous claims cost money to defend; thus, this coverage is vital to a Collection Agent's business.
7. Ask for references and their recovery rates
Ask your collection agency to provide references of their old or current clients. Not all collection agencies will provide this. But an agency should be able to minimally provide their average recovery rate for your industry. This will give you a fairly good idea about their debt collection performance. A good collection agency will help you to improve cash flow and increase profitability of your company.
8. Do their services and cost suit you?  Check pricing of others.
Typically, debts lower than $1000 generally does not require a customized collection approach. Bigger the debt, higher is the need for a customized approach. Some services are flat fee based while others are percentage based? Here are some examples of services which collection agencies offer. 
a) Written Demands: These are collection letters and cost about $15 for 5 letters. Do they offer pre-collections as well? ( in pre-collections, demands are made under your name instead of the agency.)
b) Collection Calls: These are percent based collections. Depending on the balance, age and services provided, a collection agency may charge between 10 to 50% commission of the amount collected.
c) Legal suit: This is also percent based collection and is suitable for larger outstanding debts only. An agency may charge between 10% to 50% commission for legal collections. Some collection agencies have tiered contingency rates based on size and age of the account.
Lookout for savings: Make sure to fully understand the fee structure of the collection agency. One collection agency may charge 40% for a service; however a similar agency may charge you 25% for the same service.
9. Technology: PCI complaint and is your data handled safely?
Does your collection agency have an online self service collections portal (client portal), so you can see the debt collection status of each account submitted. If they do not have a client portal, will they keep you informed about the collections activity or proactively tell you when a payment is received? Do they take enough measures to secure your and the debtor's data? If they accept credit cards, they should ideally be PCI complaint. Does their online client portal use Secure Socket layer ( SSL / Https protocol). If they are sharing data with other parties, are those secure or not.
10. Skip tracing services – Did your debtor move? Locate him!
Skip tracing is a service which allows a collection agency to try to locate a debtor if their contact information (address/phone) has changed. Unable to locate a debtor is a fairly common scenario, therefore using skip tracing to find debtors latest whereabouts is an important part of collections. [See our detailed article here on Skip Tracing]
11. Background check on debt collectors?
A collection agency should check that the sensitive data of their clients is not handed over to those debt collectors who have a criminal background. Your reputation is very important, and you want to ensure that the debt collector is not prone to use collection methods that harm your reputation.
12. Credit Bureau reporting an option or not?
Many collection agencies do not report noncollectable debt to the credit bureaus. During a collections call, if a debtor asks the collector "Will you report this to Credit Bureaus if I do not pay", or "Will this appear on my Credit History?". If collector says "NO", the debtor is less likely to pay.
13. Litigious customer check performed or not?
 Few debtors have a history of suing back businesses who they need to pay. Ideally a Collections Agency should do a scrub if a customer is litigious or not and advice you accordingly. Select a Collection Agency which does litigious debtor check since very few agencies do it, this will help to minimize lawsuits against you.
14. How long will the accounts remain valid after purchase?
For written contacts, the accounts you buy come with an expiration date ( typically 1 year or 2 years). Its ultra rare for an agency to offer accounts which do not have an expiration period. This enables you to buy a big chunk of accounts for a cheaper rate, and keep using it over the years. A $20 account cost for 5 contacts will fall to around $10 per account when a large chunk is purchased.
15. Are you being pushed for contingency services even if the account is not so old?
Fixed fees services have an upfront cost but are extremely cost effective. Core collection calls made by a debt collector are contingency based and are a great deal for the collections company but not you. So if the age of your accounts if within 120 days and still you are being pushed for contingency collections by their sales person, think twice. Understanding all the types of Collection Agency services and collections cost is important.
Note: 
We have listed a lot of selection factors above. Even a great collection agency may not be able to fulfill all points discussed above, that does not make them bad or inferior. But this list will certainly help you to make a meaning selection when comparing one collection agency with another.
We have shortlisted a few collection agencies based on their performance, pricing and experience. You may contact us in case you are looking for one.
Getting the most out of your collection agency:
1. Be honest to your collection agency. Keep them informed of any changes that you may become aware of during the collections activity on an account. Keep all the paperwork supporting the validity of the outstanding debt and provide them when asked by your collections agency.
2. Sooner you submit an account for collections, better the chances are of recovering that money. Typically, a collection agency will accept accounts 60 days after the payment date was due (also called the date of debt).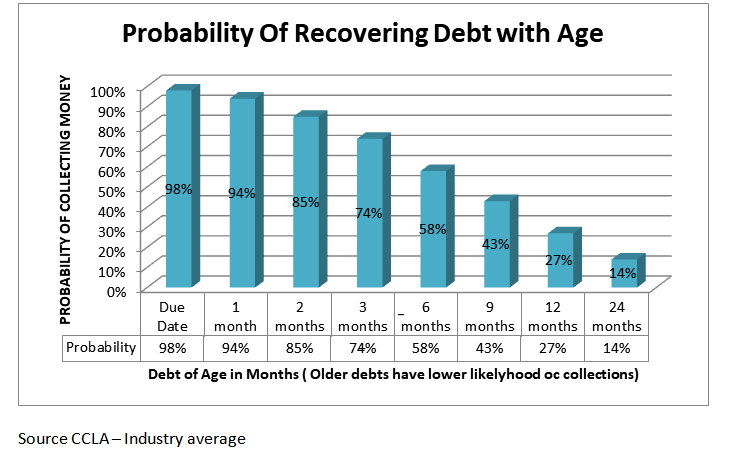 Visit our "Contact us" section to get in touch with one of our shortlisted collection agency.
Video: